Posts

: 335


Join date

: 2009-03-08


Age

: 26


Location

: USA, Buffalo, NY



Sam and I (and anyone else who's interested) are going to grow lovely moustaches during the month of May. I'm cheating, as I've already started.
Hey look a new topic! But its about something irrelevant to everything else..... well i must say something now, so...
Weeeeeeeeeeeeeeeeeeeeeeeeeeeeeeeeeeeeeeeeeeeeeeeeeeeeeeeeeeeeeeeeeeeeeeeeeeeeeeeeeeeeeeeeeeeeeeeeeeeeeeeeeeeeeeeeeeeeeeeeeeeeeeeeeeeeeeeeeeeeeeeeeeeeeeeeeeeeeeeeeeeeeeeeeeeeeeeeeeeeeeeeeeeeeeeeeeeeeeeee




Posts

: 186


Join date

: 2009-04-07


Age

: 26



Ok, I made this reply just so I have exactly 100 posts! Yay me! Grats me on 100 posts!




Posts

: 186


Join date

: 2009-04-07


Age

: 26



Yeah I started about three weeks ago. Oh well. We'll update you guys on how it's going!



Posts

: 64


Join date

: 2009-03-26


Age

: 28



Progress Report #1
It's coming along splendidly, although it's approaching the threshold of dirtiness.
Alright, Sam's turn.
It's getting so gross. Why am I still going.
I think it's about due time for me to update.
I got off with a late start due to having to shave and look 'clean cut' for prom. But then I let loose, and roughly a week and a half later, came up with this. I also got a haircut

Which is an added bonus for me being so late. It was like 2 A.M last night that I figured, now or never, and took some pictures. So I look a little odd. But hey, I guess I always do. I'll probably post one more update at the end of this month. Ftw.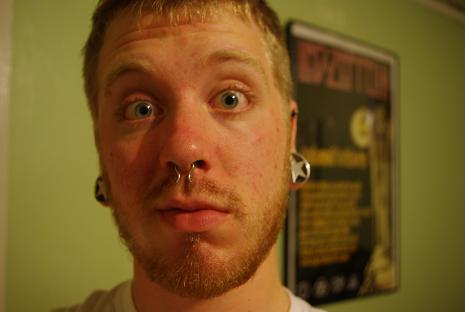 Posts

: 64


Join date

: 2009-03-26


Age

: 28



Great Scott, only one more week and I get to shave.

---
Permissions in this forum:
You
cannot
reply to topics in this forum